Before the process of painting your home begins, you need to choose a color that works well with the space. This can actually be surprisingly tricky, as factors such as how light affects it, how it matches the woodwork, and whether it makes the room feel more open or more claustrophobic, all come into play. Read on for a handful of foolproof color selection tips for your room painting project!
Are you in Northern Colorado and want to make sure your residential or commercial painting project goes off without a hitch? Horner Painting provides professional painting services throughout the region with reliably high-quality results and hands-on customer support. We find that putting people first produces the best painting experience. Contact us today to speak with a Fort Collins painting contractor about your upcoming project today!
Where Should You Start?
When choosing what color to paint your room, a good place to start is to consider the amount and direction of natural light in the room. Contextualizing the light along with the existing colors and shapes in the room (such as rugs and furniture) can help you quickly narrow down your options. Bright, clean natural light will brighten up the paint so that the true color shows well, while a southern-facing room may be warmed up by the warmer natural lighting it will get.
A Feeling of Spaciousness
When you want to make your room feel more spacious and open, brighter colors are often a better choice, as they will reflect more natural light. However, if the concept for the room is less "openness" than "coziness," a deeper, moodier color may be superior for achieving that effect.
Cohesiveness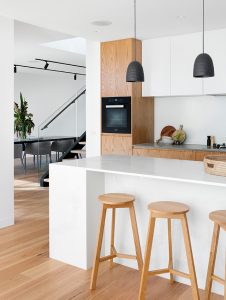 When getting multiple rooms painted in your house at the same time, there should be some consideration regarding how to make the colors feel coordinated and flow seamlessly from one room to the next. An easy way to do this is to choose different shades within the same color family. For example, having one room with a medium blue, and the next one a few shades lighter. Complimentary colors also help build a sense of cohesion — for example, you have that medium blue in one room and then go for a medium-hued gray hue in the next.
How to Use White
White is actually one of the hardest colors to get right. The subtle undertones and considerations of warmth and balancing it with the other colors in the room can be difficult. Generally, eggshell white is best for finishing walls, as it gives a soft sheen, while semi-gloss looks great for trim and matches eggshell white walls well.
Get More on Choosing Interior Wall Colors
Want more professional advice as to what color to paint your interior walls? Whether you are a homeowner or are getting your business's walls repainted, Horner Painting is here to help. We pay very close attention to all the details and provide excellent customer service at every step of the interior painting process. If you are in Northern Colorado, contact Horner Painting today to get help bringing your interior painting vision to life!
(303) 415-2508