Planning to sell your home in the near future? If so, then you're probably looking for the best way to sell it quickly and for the most money. Your home is likely one the biggest assets you own, so being able to get even 1% more for it can equate to big bucks. But, not all home improvement projects are the same. Some can take a lot of time and energy to complete and provide little return, while others can be done quickly and make a big impact.
Painting is one of those projects that has been shown to boost value and provide the most return on investment. Plus, it's relatively simple to do and can be completed in as quickly as one day by a professional painting company.
How a Fresh Coat of Paint Can Help Sell a House
Whether you choose to focus on your home's interior, exterior, or both, there are many benefits that a new coat of paint can provide.
Created an Updated, More Modern Look
The retro look of white appliances,1980s brass fixtures, and certain paint colors might not bother you, but to a home buyer, these are things that can make a home look old and outdated. If you haven't changed the color of your walls in a couple of decades, you might not be making the best first impression. Consider having your walls updated with fresh, neutral colors to attract potential buyers.
Brighten a Space
Dark paint colors may be on trend, but they can also make a room feel small and even dingy. Keeping things light and bright is not only pleasing to the eye, but it also can make a space appear larger and cleaner.
If your goal is to sell your home for top dollar, avoid the dark, rich colors and consider painting your walls a shade of white or light gray instead. It will brighten up your home and allow potential buyers to see it for all that it has to offer.
Make it Feel Newer and Cleaner
Paint has a way of influencing first impressions. If your home hasn't been painted in several years, the exterior siding can become faded and the interior walls can become riddled with knicks and scratches. Although no one expects a lived-in home to be in pristine condition, if you really want to "wow" potential buyers and set your home apart from the others on the market, consider giving it a fresh new coat of paint.
Choosing the Right Color of Paint for Selling a House
Interior Paint Colors
If you're planning to sell your home, it's best to stick with neutral colors such as white, beige, or light gray. Colors can be very personal and polarizing and you don't want to turn off a potential buyer just because they don't like your choice of color. Keeping with neutral tones provides a blank canvas that makes it easier for people to envision themselves in your space. It also allows them to customize their new home with colors and design elements of their choosing without having to take on a repainting project as soon as they move in.
Don't like the idea of just having one neutral color? Want to add some well-planned design elements that will appeal to most buyers? Done correctly, subtle hues and even small quantities of statement colors can go a long way in speaking to potential buyers. Just remember that paint can make a significant impact on the feeling and mood of each room in your home. Before choosing a color for a particular room, consider its purpose – should it feel calm and relaxing or vibrant and energizing? When it comes to paint color, it's always a good idea to consult with a professional, and remember, less is usually better.
Exterior Paint Colors
Having your home's exterior painted before putting it on the market may be the key to a quick sale. That's because a fresh coat of paint will clean up blemishes, brighten the color, make it stand out (in a good way), and add instant curb appeal.
It's not enough to just pick your favorite color and start loading up your paintbrush. Painting is an important investment that requires careful thought regarding the color you choose. First, look at the colors that are popular in your area. You'll notice that the home colors in Fort Collins, Colorado aren't the same as you'll see if you were living in Miami, Florida. Second, choose a color that works well with the style of your home. Certain colors can be off-putting if they are applied to the wrong home style. Finally, if you live in a neighborhood with an HOA, make sure that you get the color approved first. Most HOAs will have a list of pre-approved colors to choose from so you'll want to get the go-ahead before falling in love with a particular shade.
Other Tips for How to Increase Your Home's Value
Besides painting, there are several, relatively easy things you can do to increase the value of your home with minimal investment. First, clean and declutter your home. This is one of the most important things you can do and it doesn't take much – other than some time and a little elbow grease. Next, consider updating fixtures. Swapping out 30-year-old drawer pulls and lighting fixtures for new, modern styles is something that just about any homeowner can do. Finally, update your old, energy-sucking appliances with newer, more efficient ones. Energy efficiency is a big selling point in today's market and it can help set your home apart from the others.
When deciding on where to start, consider that some may be simple DIY projects whereas others are best left to a professional. If you're going to be placing plumbing, upgrading electrical, or painting your home, it's a good idea to enlist the help of someone who has the training and experience to do it right.
For a professional painter in Fort Collins, call Horner Painting. We have over 20 years of experience and can help you choose the right colors for selling your home. Contact us to learn more to get started on a free quote!
We're taking a break from our traditional paint-themed articles to bring you a few tips to get your lawn in top shape as the grass starts turning its greenest here in Northern Colorado. As we begin to turn on our sprinklers and our mowers for the first time, now is the perfect time to set up your lawn for a successful summer. And if you're like most folks, you may have a few brown patches, a few dozen weeds, and a bit of thatch built up from winter. So, we've cataloged a few tips you can try out to make your lawn the talk of the town. Take a look!
Aerate
Plenty of homeowners neglect to aerate their lawn, but it's a good habit to get into. It's recommended that folks aerate twice per year to improve the soil of the lawn, preferably in the spring and fall. Aerating helps to soften dirt, bringing a bit of air to grass roots, while also mixing up much needed nutrients. Plus, water will more easily penetrate your soil after aerating. So, your grass will have more nutrients, more water, and more air. Don't have an aerator? You can rent a machine aerator from your local hardware store for a few hours, or invest in a step-on aerator that you can use with your feet.
Fertilize
Fertilizing replenishes your lawn's soil with all the nutrients it needs to support healthy grass. It's best to fertilize your lawn once per year, and now is the perfect time to do it! Pick up a bag of fertilizer and use a fertilizer spreader to give your lawn a thin coating. Be sure to follow the instructions of the fertilizer you purchase. Most fertilizers recommend giving your lawn a good soak beforehand, to help the nutrients to penetrate the soil. Don't forget to keep your pets and kiddoes off the lawn for a day or two, since some fertilizers can be harmful.
Watering
If you're turning your sprinklers on for the first time this season, be sure to check all of your sprinkler heads. Sprinkler heads often break or become misaligned over winter, so you may have to do a bit of maintenance to ensure you have even coverage over your whole lawn. It's best to set your system timer to go off at night, just before sunrise, to ensure that the water doesn't evaporate right away. Adjust the amount of time that you water for the heat, or if there is rain in the forecast, so you don't end up overwatering your lawn. Give your lawn about 20 minutes of water every other day in the spring, and possibly every day in the height of the summer to ensure your grass gets about an inch of water per week.

Here for Spring Painting
As the green season is in full form, and it's the perfect time for house painting. As the temperatures rise, we're scheduling exterior home painting projects for folks throughout Northern Colorado. We hope you've enjoyed our lawncare tips, and as always, you can count on us for all your painting needs. Horner Painting provides home painting services for folks throughout Fort Collins, Loveland, Greeley, Windsor, Johnstown, Wellington, Severance, and Timnath — simply reach out to us to get started!
May is here, which means rising temperatures, afternoon thunderstorms, and of course, Mother's Day. We want to take a moment to celebrate all of the mothers, grandmothers, great grandmothers and wives out there who have shaped us and our community. We give thanks for all the hard work they put forth, and the warmth they provide us. That's why we're taking a moment to offer up a few springtime home improvement tips that we can all take part in, so that we can brighten Mom's day! As always, you can count on Horner Painting for interior and exterior home painting services; after all, a fresh coat of paint can work wonders to transform your home, bringing a smile to any mother's face. Simply reach out to us to get started, and to take advantage of our early bird pricing specials on exterior painting services. Now let's delve into a few more home improvement projects that you can take on as we approach Mother's Day (which is on Sunday, May 9!).

Springtime Gardening
Early May doesn't just mark the time to celebrate mothers, it's also the best time to begin gardening. Whether Mom likes to garden, or you're the green thumb of the house, everybody can enjoy delicious veggies and beautiful flowers that your garden can bring. Take time this week to till your garden beds and lay in seeds. If you don't have garden beds, now is the time to build them. Consider making a raised bed with railroad ties or exterior-grade lumber. Or, till straight into the ground to make a makeshift garden with veggies that will be just as delicious. And feel free to get the kids involved!
Carpet Cleaning
The spring season also marks that time of the year where we dust away the cobwebs of winter, cleaning the house from tip to toe. Yet, folks often forget to give their carpets a thorough cleaning as they practice the spring cleaning tradition. Carpet cleaning can work wonders to transform your home, especially if you have pets and kiddos who bring more dirt in the front door every minute. Try to set aside a time to rent a commercial carpet cleaner from your local hardware store if you're a do-it-yourselfer. Or consider hiring a professional company while Mom is away from the house for a few hours for a welcome surprise!
Kitchen and Bathroom Remodeling
If you're a handyman, you can show your appreciation for the mum in your life with a kitchen or bathroom remodel. While you'll have to set aside a bit of money and plenty of time for these projects, a home remodel can prove useful, valuable, and appealing to the eye. Transform a bathroom with modern fixtures, or get rid of that old, outdated wallpaper. Or pull out the appliances of your kitchen and replace them with new, more efficient, stainless steel models. If you're feeling bold, a remodeling project is sure to show your love and appreciation for Mom.
---

Our Early Bird Specials
We hope that you've enjoyed our ideas, and we hope you enjoy the weekend celebrating time with all of the mothers in your life. We'll be here throughout the summer, ready to provide you with home painting services at the drop of a hat. Don't hesitate to reach out to us to take advantage of our early bird specials this spring.
Home improvements are expensive. Yet, they can be well worth the investment. Homeowners have long opted to pour money into their homes not just to better customize them to their needs, but also to up the home's equity, as well as its resale value. If you're one of the many homeowners out there striving to boost your home's market value, you may be asking yourself: What are the best investments for my home? What improvements will earn me the most value in the long run? Well, we've done some digging, and we'd like to highlight four of the best value-per-dollar investments you can make to improve your home. Here's our list.
Basement Finish

If you have the money (or the time, tools, and experience to do it yourself), finishing your basement can earn you as much or more money than you invest. Consider finishing your basement with an extra room or two, and an additional bathroom. If you have extra space, tacking on an entertainment room is a great idea. And you can add a storage room (which can remain unfinished). Don't go overboard on customizations (like integrated surround sound, or a built-in bar), unless you're planning on enjoying these amenities yourself; when you opt to put your home on the market, you may not earn as much money for basement renovation than you put into it if your home purchaser doesn't like the custom details as much as you do.
You may also consider finishing your basement with an apartment configuration (including a bathroom, bedroom, and kitchen), so that you can rent the space. Consider adding a separate entrance to your basement if you're finishing it with a full apartment. Adding a garden apartment is an excellent source of passive income while you're living in your current abode, and it can be an appealing selling point should you ever put your home on the market in the future.
Exterior Updates
Updating your home's exterior won't just provide better protection for your home, it will boost its value and curb appeal. If you have damaged siding, worn out paint, or siding that could use a facelift (like added trim and details, or a stone facade), then an exterior update is a great idea. Replace any damaged siding along the surfaces of your home. And paint your home siding if it hasn't been painted in five years or longer (of course, you can count on Horner Painting to paint the exterior of your home!). If you have the budget, you can update your siding with a new, tack-on facade of stone and extra trim details to make your home look warmer and richer.
Kitchen & Bathroom Remodels
Do you have a kitchen with outdated appliances or tacky countertops? Or perhaps your bathroom still has an odd avocado-green bathtub. Updating these outdated rooms can work wonders to modernize your home, making it more appealing for homebuyers in the future. Consider replacing old cabinetry, laminate countertops, laminate floors, outdated appliances, and fixtures that don't fit the character of your home. Consider stainless steel appliances, timeless wood cabinets, and granite countertops in the kitchen. Or update your bathroom with a modern, high-efficiency toilet, a tiled shower, a simple, modern vanity, and fixture changes.
Add a Deck
If you don't already have a deck, adding a modest deck can prove to be an affordable facelift to boost the value of your home. Consider adding a deck that is open and utilitarian, with space for dining and cooking. Your deck shouldn't take away too much yard space, and it should be well integrated with your landscape and the trees on your property. Don't forget to plan your deck for its view, and consider installing privacy fencing if you have neighbors nearby. Don't forget to stain and maintain your deck to keep it protected from weathering; stain your deck every two to three years.

Call Horner for Exterior Painting
As always, if you live here in Northern Colorado, you can trust Horner Painting for a professional paint job that is sure to boost the value and curb appeal of your home. Horner Painting provides painting services for our neighbors throughout Fort Collins, Loveland, Greeley, Windsor, Johnstown, Wellington, Severance, and Timnath. Plus, we're currently offering early bird specials for folks who schedule spring painting! Simply reach out to us today for an estimate on your upcoming painting project. We hope you'll call on Horner for our painting services to make your home the talk of the neighborhood!
March means rising temps and it brings us the first day of spring (March 20!). And as we come out of our caves from winter hibernation, it's time for some housekeeping. While spring is synonymous with cleaning the interior of your home — we've all heard of "spring cleaning" — spring is truly the perfect time to tend to your home's exterior and your landscape. With snow melting and the ground thawing out, it's time to tend to your home exterior, your deck, and the garden. That's why we've cataloged a quick checklist that you can tackle to ensure that your property looks its best, and your home is ready for the upcoming summer.
Reseal Exterior Wood
Do you have a deck? A wood fence? A pergola? A gazebo? It's time to reseal all of the exterior wood around your property. Most outdoor wood should be sealed every one to three years to preserve the wood and to fend off rot and weathering. Clean the exterior wood structures on your property with a pressure sprayer (be sure to use a low, yet effective PSI setting), let the wood dry out, and stain your surfaces on a warm, sunny day.
Check Your Roof
Winter can wreak havoc on a roof, especially here in Colorado. With heavy snows and huge daily temperature swings, your roofing material can deteriorate quickly. Be especially wary of damage that may have occurred over the cold season if you have an asphalt roof or wood shake roof, since these materials are more susceptible to damage from snow and ice.
Turn on Those Sprinklers
Once temperatures no longer dip below freezing at night, your sprinklers and irrigation lines can be turned on throughout your property. Be sure to give all of the zones in your yard and garden a test run, and check each sprinkler head and drip line. Sprinkler heads are liable to malfunction after a winter season of wear, so you may
have to do some adjusting and you may have to replace a head or two. Be mindful of pooling water anywhere along your irrigation lines or reduced pressure coming through the lines — both can be an indication that you have a leak in your system that will require some attention.
Get Gardening
Spring is the perfect time to till soil, trim trees, and plant a few veggies. If you have a garden, till the soil while it is warm and moist. You can add in fertilizer, compost, or top soil to improve the quality of the soil. If you have trees scattered throughout your landscape, take time to assess the health of each tree. Look for dead limbs that aren't growing leaves or signs of rot, and remove any tree limbs that are hazardous. If you're a green thumb, then you know that the early bird gets the worm when it comes to garden planting. Spring marks the best season to plant many greens, cucumber, onions, beans, peas, carrots, broccoli, cauliflower, tomatoes, and peppers, among other plants.
Paint Your Home Exterior
Spring is the perfect season to paint your home exterior. Temperatures are warm enough, and it's the ideal time to protect your home against spring showers and summer sun rays. Take a quick look at your home's siding for signs of deterioration, such as discoloration, cracked and chipped paint, and damage to the siding itself. If you notice these signs or if it's been more than five years since you've had your home painted, then it's time for a fresh coat!

Here for Spring Painting
If you live here in Northern Colorado, you can count on Horner Painting to paint your home this spring. Horner Painting provides painting services for our neighbors throughout Fort Collins, Loveland, Greeley, Windsor, Johnstown, Wellington, Severance, and Timnath. As a matter of fact, we're offering early bird specials for folks who schedule spring painting as winter comes to a close! Take advantage of our lowest prices of the year, and reach out to us today for an estimate on your upcoming painting project. Best wishes from the team here at Horner Painting as you take care of your home this spring!
While spring may mark the season of home cleaning, fall spells property preparation for homeowners. As fall approaches quickly (of course, here in Northern Colorado, we've already had our first snow!), we shift from opening the windows on hot summer nights to turning on the furnace for the coming season of cold. And these temperature changes mark the ideal time to perform a number of tasks, repairs, and maintenance around the ol' abode. Today, we're going to highlight a few of the fall todos that you might want to put on your list. And as always, we're here to provide you with premier painting services to protect your home, regardless of the season!
Furnace Maintenance
It's best to turn on your furnace before you need it. Have an HVAC technician to your house to perform yearly maintenance. If you'd like to tackle this year's maintenance yourself, you can turn your furnace on at the thermostat, make sure the burners come on, and the blower fan starts whirring. If you have the tools and know-how, you can use oil to lubricate the blower fan motor (electric motor oil is sufficient), and you can check the electrical components of your furnace to ensure that you don't get any loose ends anytime soon — be sure the furnace is off and the power is shut off at the breaker before fiddling with the blower motor or the electrical components of your furnace. You can also clean your furnace burners if they're gunked up with debris — consult the owner's manual for your furnace before doing so.
While you're at it, be sure to check the filter of your HVAC system (it should be located near the blower fan of your system). If you have a furnace that's collected plenty of dust and fuzz, it's time to replace it (or clean it, if you have a permanent filter), to keep your furnace running efficiently and your home's air clean. You can also check the vents throughout your home, and make sure the appropriate vents are open to keep your living spaces cozy and comfy.
Landscaping
Next, it's time to head to the great outdoors of your backyard. Cut dead limbs from trees and bushes throughout your property. These limbs can pose a hazard when heavy snowfall comes, so it is best to remove them before they can snap and fall.
You can also put away any seasonal patio furniture, or cover your furniture if you have waterproof covers. If you have an outdoor propane fire pit, now's the time to clean the burners, ensure the propane tank is securely connected, and run a test run. Of course, you should have the propane tank valve turned off completely when cleaning the burners.
If you have a green thumb, you can do some work in the garden. You can remove dead or dying plants, as well as plants that have already produced their fruit for the season, unless you want them to go to seed. Feel free to compost plants if you have a heep or a bin to do so. In addition, springtime flowers that are bulb plants can be planted in the fall to give them time to settle into the soil and germinate the coming year. Go ahead and plant bulbs if you have the foresight.
As for your lawn, you can get in a final aeration, and add a fertilizer which will have plenty of time to seep into the soil over the coming winter. You can also begin to taper watering, and eventually you'll want to blow out your sprinklers (or at least drain them), before the first freeze comes. Continue mowing to keep leaves from smothering your grass. You should mow throughout fall, until frost is on the horizon. Then, taper mowing off, and leave your grass a couple of inches tall as it goes dormant for the winter (a bit of extra length helps grass to protect itself from harsh colds and fungus that can grow beneath snow).
Gutter Cleaning
Have your gutters cleaned, or clean them yourself if you're comfortable on top of a ladder. Fall is the most likely time for your gutters to get clogged, since leaves and debris can easily pile up. Keep an eye out for water pouring over the edges of your gutters during a storm (which means that there's a blockage), and be sure to give your gutters a final cleaning after most of the leaves have fallen from nearby trees. Double check your downspouts to ensure that they remain attached and free from clogs, and make sure the bottom of the downspout directs water away from your home.
Check Caulking and Weatherstripping
You may not notice, but our homes expand and contract as temperatures change. That can create gaps around your windows and doors and other protrusions around your home's exterior. In addition, weatherstripping and caulking eventually age, becoming brittle and cracking. Take a keen look around your home for bad caulking and weatherstripping, or cracks and holes. Replace weatherstripping, and apply new caulking as necessary. If you're having your home painted by the crew here at Horner Painting, we'd be happy to apply fresh caulking to keep your home insulated from the coming cold. Now's also a good time to add insulation to your attic, and to have your home inspected with a thermal imager, so that you can tell where warm air will leak out of your home this coming cold season.

Protect Your Home With Horner Painting
With fall in the air, we're here to help you prepare your home. You can count on the team here at Horner to provide you with exterior painting services to protect your home's siding from the wear and tear of the coming winter. Plus, we provide interior painting services, so you can update your home all in one fell swoop. We work across the Front Range, providing service throughout Fort Collins, Loveland, Greeley, Windsor, Johnstown, Wellington, Severance, and Timnath. If you're ready to prepare your home this fall with a fresh coat of paint, please don't hesitate to reach out to us today!
How often do you really think about the exterior of your home? For being the protective barrier around your abode, we often neglect to think about the hazards that can damage a home's exterior. Too often, homeowners are stuck with extensive damage and costly repairs caused by a rogue branch, pooling water at the foundation of the home — you name it. That's why we're taking a moment today to mention a few common hazards that can damage your home, if they go overlooked. Keep an eye out for tree and bush branches, flames from a grill that is too close to the home, vines that can slowly eat away at siding, and pooling water that can seep into a home and/or damage its foundation.
Tree and Bush Branches
Tree and bush growth often goes unnoticed. However, these plants can slowly inch their limbs closer and closer towards the siding of your home. Over a matter of years, a tree that used to be in the middle of your yard may be approaching your home's exterior and roof. And a bush may grow limbs that scrape against your siding, or roots that dig into your abode's foundation. Be sure to keep an eye on rogue limbs that can scrape into your home's siding or even fall onto your home. And trim back bushes that are liable to grow against your house. Be mindful of the proximity to your home when you plant new bushes and trees, and consider installing root barriers if you're landscaping near your home's exterior. You can also do some research into the estimated projected growth of specific bush and tree species, so you know how big the flora on your property will grow throughout the coming years and decades.
Grill Flames and Smoke
Your grill should never be too close to your home's exterior. Heat from the flames of a grill can easily damage and warp siding, especially wood and vinyl siding. In addition, smoke can quickly stick to any siding surface, leaving a stain that may not easily come out. Plus, you never want to have a rogue ember or flame become an ignition source for a house fire. Keep your grill 10 feet away from your home, and keep it well away from other structures, like a gazebo, shed, or pergola.
Vines
While the weight of vines growing on the exterior of your home is unlikely to cause damage on its own, vines can damage different siding surfaces by holding moisture against these surfaces. Over time, moisture can rot away surfaces, and it can harbor mold that can speed up the wear and tear that your home's exterior endures. Vines can also produce tendrils that can penetrate the siding of your home (especially wood and vinyl siding), which can warp the siding and cause damage. Moreover, vines can also house insects, birds, and critters, which may become a nuisance.
Pooling Water
Never let water pool near the foundation of your home. Pooling water can quickly seep into a home, making its way into your walls, floors, basement, etc. What's worse is that pooling water can eventually leave your home full of mold and mildew. Plus, water can cause your home's foundation to crack, which will lead to even more damage. Keep an eye out for any areas where the surrounding terrain slopes toward your home. These areas should be re-graded to direct water away from the home, or a French drain may be installed to ensure that pooling water doesn't build up.

Minor Repairs and Exterior Painting
If you live here in Fort Collins or across the Front Range, we'd be happy to provide you with exterior painting and siding repair services, should you find that your home's exterior is damaged. Feel free to reach out to us if you're curious about any of our services, or if you'd like to get started. We provide home painting services (including interior and exterior services) throughout Fort Collins, Loveland, Greeley, Windsor, Johnstown, Wellington, Severance, and Timnath. We hope you continue to protect your home with our tips!
When we talk about home improvements, we're talking about investing in (likely) your most valuable possession. Beyond that, your home is your legacy for your children. It's the roof over your family's head. It's comfort, peace of mind, a place to rest your head at night. And its value extends beyond market value. So, it's crucial to find the right contractor for the job, for every project you take on.
Here at Horner, we pride ourselves in promising a premier paint job with every project we undertake. What does that mean? Well, for starters, we provide a warranty and guarantee of satisfaction, we put safety first (for both your family and our team members), and we provide an honest estimate up front, so you don't have to guess how much you'll spend when all is said and done. In short, we strive to be the right contractor for the job. You can look for these traits in all contract work that you perform on your property.
Warranties and Guarantees
First things first, ask potential contractors for any warranty or guarantee they offer. Get it in writing. Your contractor should be able to promise complete customer satisfaction. And work on most projects should be backed by a warranty protecting your home against problems, poor workmanship, or premature wear and tear, depending on the project at hand. Here at Horner, for example, our guarantee is simple: If you have a problem, we fix it. And our warranty provides homeowners with five years of comprehensive protection for our workmanship. Feel free to take a look at our full warranty and guarantee.
Insurance and Safety Measures
Contractors should be insured, and safety should be a primary concern, regardless of the job. When choosing a contractor, be sure to ask if they are insured, which provides financial protection for you, your family, and your home in case of an accident. And ask about the safety measures they have in place. Does your roofing contractor tie off to an anchor when replacing your roof? Does your arborist wear a hard hat when cutting branches? Safe practices help to provide you with peace of mind, and can save you from a headache or unnecessary damages down the line.
Estimate or Quote Up Front
You wouldn't buy a car for an unknown price, only to discover the price tag when the bill comes in the mail. Contract work should be the same. Get an estimate or quote up front to ensure that you know what to expect when the bill arrives. You'll also be able to shop around for the best price once you have an idea of the costs from each contractor that you're considering. We always provide an estimate on our projects, free of charge.

Conscious Contractors at Horner
Here at Horner Painting, we're proud to cater to our neighbors as Northern Colorado's Top Rated Local® painters. If you're curious what we can do for you, please don't hesitate to reach out to us. We proudly paint homes for our neighbors across the Front Range from our home here in Fort Collins — we provide service throughout Fort Collins, Loveland, Greeley, Windsor, Johnstown, Wellington, Severance, and Timnath. As always, we hope your home improvement projects go smoothly. Till next time!
As May rolls around, governments are loosening their restrictions in light of some stability during the coronavirus outbreak. However, folks around the nation are asked to remain patient and stay at home as much as possible, while maintaining our standards of social distancing. As we look to an odd spring with plenty of time spent at home, families have plenty of time to spend together, and homeowners have plenty of time to make home improvements. If you joined us for our last article, Home Improvements to Tackle During Social Distancing, we discussed a few home improvements that you and your family can work on while staying safe this spring.  Last time, we talked about preparing your garden for the warmer weather, fixing up furniture around the home, spring cleaning, and painting your home's exterior (we can help you with that last one!). Today, we're continuing that theme with a few more projects that you can tackle while we're spending our springtime at home.
Pressure Wash Your Property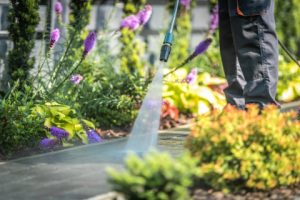 Take a keen look around your property. Do you have siding that's covered in dirt and grime? Or maybe the grill has even left a bit of smoke on its surface. Is your deck covered in mud from your last landscaping project? Or maybe it's stained by grass clippings kicked around by your weed eater. Do you have a stone path to your garden that is completely overgrown? A pressure washer can work wonders to improve the look of your home. Hit fences, siding, decks, your driveway, paths — you name it. If you don't have a pressure washer, you can rent one from your local hardware store, or purchase a decent model for a couple hundred dollars. Be sure to follow guidelines for the best psi to wash the surfaces you're working on!
Reclaim Your Garage
Like most Americans, my garage is filled with tools, projects, boxes, loose lumber, sports equipment, camping gear… and sometimes a car. If you have trouble fitting your car in your garage (which may be its actual intention), then it's time to reclaim that space. First, clear out any junk you don't need. Donate those old tires. Get rid of the lathe that you haven't used in four years. Toss those tiny bits of scrap lumber you're holding onto. Next, give yourself some added storage space with overhead storage racks, wall shelving, and labeled tubs that make everything easy to get to, yet out of the way. Finally, hang up all the tools and equipment that you can. Get bike hooks to keep your bikes from obstructing your pathways. Get a tool rack for all the tools that you use often. Hang up hand tools on nails and screws (or invest in specialized hardware to hang up your hand tools). Get as much stuff off of the floor and onto walls as possible. Once you've reclaimed all that space, grab your shop vac or blower, and give the whole garage a good "dusting."
Update Your Light Fixtures
For making rooms in our homes visible, our lighting fixtures often go oddly overlooked. If you have lighting fixtures that are outdated, broken, or damaged — or if you have fixtures that are missing bulbs — now's the time to give your home lighting attention. Hop online to check out fixtures that are available for delivery. You can also purchase new bulbs online that fit the atmosphere that you'd like for your home. Consider yellow bulbs for warm, cozy spaces, like your bedroom or the entertainment room. Use clean white bulbs to make your spaces feel more open and airy, like your kitchen or perhaps your bathrooms. If you have older bulbs, it's likely that they aren't energy efficient, consider newer models that will provide lasting savings on your energy bill.  You can transform the entire look of the interior of your home with a few new fixtures and bulb — get creative and see what works best for each space throughout your abode.

Count on Horner Painting
Here at Horner Painting, we're still providing home exterior painting services during the coronavirus pandemic. We want to assure our clients that we closely follow CDC and WHO guidelines as we continue to provide home exterior painting services. In addition, we currently provide no-contact estimates that you can complete online or over the phone, so we can remain at a safe distance from step one. If you're curious what we can do for you, please don't hesitate to reach out to us. We proudly paint homes for our neighbors across the Front Range from our home here in Fort Collins — we provide service throughout Fort Collins, Loveland, Greeley, Windsor, Johnstown, Wellington, Severance, and Timnath. Best of luck with your home improvement projects, please stay safe and healthy! 
With the threat of coronavirus looming, families around the globe are doing their part by staying at home. It's a strange time, but it has provided us with unique opportunities. Many of us are working from home, or taking a break from work. We've been given time to bond with family members around the house, and we have more time to reach out to distant family members through phone calls, video chats, and other means.
It's also likely that we have more downtime than ever, and you can only watch your favorite Netflix series so many times before it gets stale. If you're like many Americans during this pandemic, you may be looking for a project to keep yourself busy while improving your home. Today, we're going to offer up some ideas. In the meantime, stay safe, stay home, and enjoy the company you have!
Prepare Your Garden
Grab the rake and shovel, it's time to prepare your garden for spring and summer. Now's the perfect time to till soil, plant veggies and herbs, and make the most of your garden plot. If you don't have a garden, now's the time to make one! You can create simple, raised beds with four sturdy boards, rebar rammed into the earth, and hardware to hold the rebar in place. Or, simply till up a section of your property and mix in topsoil for an impromptu garden — you can make it look pretty once stay-at-home orders have lifted. April is the perfect time to plant squash, pumpkins, cucumbers, spinach, peas, lettuce, and much more! Get the whole family outdoors and involved!
Fix Up Furniture
Do you have furniture that's damaged, broken, or just dirty? It's time to make it look as though it were brand new. Often, you can fix up broken and damaged furniture with wood glue, wood scraps, and a few screws. If you have surface blemishes, clean and sand the surface, and add a fresh coat of stain. If you have the supplies, you can even create your own furniture. During these times, folks are opting to create workstations and tool benches for their kids, so they can work on their own projects too!
Spring Cleaning
There may never be a better time to give the house a thorough cleaning. Work through room after room to pick out items that you really don't need, and start a donation pile. Box up items that you consider clutter, things your kids have outgrown, clothes you don't wear, and other belongings that haven't been used for a year or more. Once you've cut out all the clutter, you can get to work with a broom, sponge, vacuum, and plenty of elbow grease and give the whole house a deep cleaning. This is definitely the perfect time to have the kids lend a helping hand!
Have Your Home Exterior Painted
While you may not have the tools to paint your home yourself, home painters are still at work, since it's possible to remain socially distant while painting a home exterior. Consider having your home painted while there's time! Unlike getting your roof replaced or performing a renovation, home painting isn't noisy, and the painter won't get in the way. Paint your home exterior if you notice chipping or cracked paint, if you have damaged siding, or if you simply want to change the color of your home exterior.

Count on Horner Painting
Here at Horner Painting, we're still working during this period of social distancing. We're closely following CDC and WHO guidelines as we continue to provide home exterior painting services. We also currently provide no-contact estimates that you can complete online or over the phone. If you're curious what we can do for you, please don't hesitate to reach out to us. Best of luck with your projects, best wishes for you and your family, and stay healthy out there!